In this post I am going to cover my experience with Bitcoin mining over the past 20 months or so. During this time I have purchased specific hardware for the task of mining Bitcoins in order to come out with a profit at the end. My journey started in June 2011 when I purchased 4 ATI 6990s and has more or less come to an end now in March 2013 when I sold my mined Bitcoins for a profit.
The aim of this project was to be able to purchase some cool hardware that could perform a high level of computation, that would eventually pay for itself. Hash cracking is a hobby of mine and I saw Bitcoin as a good opportunity to generate profit while I was not cracking hashes.
There is a lot of other Bitcoin specific terminology throughout this post so I will try to provide various links to describe these aspects as necessary.
What is Bitcoin?
Bitcoin is a peer-to-peer (P2P) digital currency that allows for instant payments between anyone, anywhere, in an anonymous manner. As Bitcoin is P2P there is no central authority giving it many advantages over many traditional currencies. For further information on what exactly Bitcoin is and how it works I suggest taking a look at the about page found here.
Bitcoins can be "mined" with computing power, for example you can use CPU/GPU power to collect Bitcoin. It is recommended to go with GPU power over CPU for Bitcoin mining as CPU is extremely slow in comparison to GPU. This is because the computation involves generating a SHA-256 hash and this operation can be much faster performed on a graphics card.
Generally AMD (Formally ATI) graphics cards are used for this task as they are much more efficient at this than Nvidia based graphics cards, you can find a comparison between the different graphics cards and what they can provide for your Bitcoin mining here.
Bitcoin miner hardware and software
As above graphics cards are much more efficient at the Bitcoin mining process than CPU, so I based my hardware selection on a set up using the best AMD card available at the time which was the ATI 6990 – a dual GPU card. When I was planning this in 2011 GPU was the way to go, however nowadays there are more FPGA and ASIC options available so these should also be considered when purchasing Bitcoin mining hardware. The efficiency per $ of these pieces of hardware is outlined in the link in the previous section.
Below is a list of the hardware I purchased in June 2011, one of the main goals was to keep the start up costs low so I basically purchased some of the cheapest hardware available to me at the time – noting that in Australia hardware prices are typically higher than other countries as well.
1           Corsair VS2GB1333D3 2GB (1x2GB) DDR3     $22.00
3           OCZ Fatal1ty Series 750W Modular     $387.00
1           Intel Core i3 2100     $122.00
1           Gigabyte GA-H61M-D2-B3 Motherboard     $79.00
4           Powercolor Radeon HD6990 4GB     $2836.00
The total hardware cost was $3446 AUD for the required hardware. Power costs are calculated further down.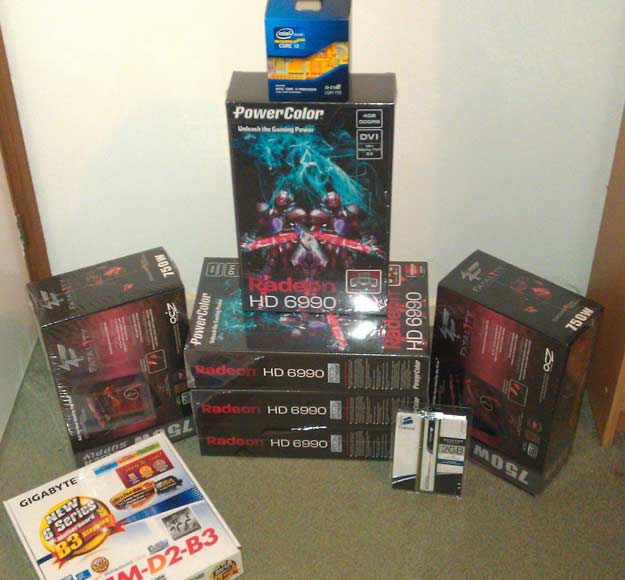 Here is an image of the purchased hardware.
No hard drive was purchased as a USB flash drive I already had was used for this which you will see in the images, these are very cheap and minimal space is required for Bitcoin mining, you can get away with a few GB for the operating system and that's it. Spare items I had available included an ethernet cable used for network connectivity, a monitor and VGA cable for initial set up, as well as a keyboard and mouse. These are not included in my costs as I already has them ready to use.
I required some PCIe 1x cables to connect 3/4 of the graphics cards to the motherboard. Bitcoin mining, like hash cracking, does not require the full bandwidth of the PCIe x16 bus so this allowed me to buy a cheaper motherboard and make use of the PCIe 1x slots instead of purchasing a much more expensive motherboard with 4 16x slots. These 3 cables were purchased from Cablesaurus as they accept Bitcoin payments and I already had some Bitcoin to spend that I had mined previously. You can make these cables yourself easily enough however while Bitcoin was still quite young I was keen to support it's growth by purchasing what I could with it.
Below is an image I took while assembling the miner, you can see the PCIe 1x cable attached to the larger PCIe 16x card.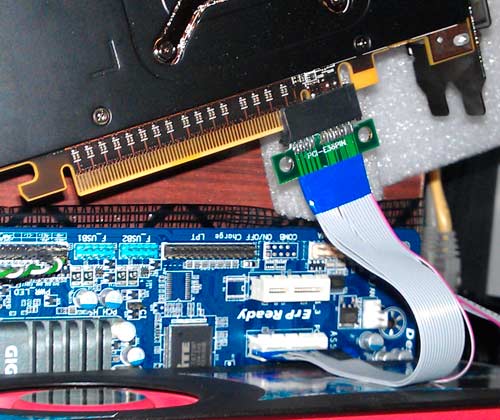 As you can see everything was pretty minimal to keep costs low, even the GPUs were cheaped out on in terms of brand, although I do not believe this made much difference as the underlying hardware is quite the same.
The operating system used for the miner was LinuxCoin which is a Debian based OS image that has everything required for mining ready to go. Some other Linux OS's were trialled prior to this however I found LinuxCoin great after having countless driver issues.
Below is an image of the Bitcoin miner set up and running. The "case" was basically some spare scrap metal attached together with rivets, there is some electrical tape covering the corners to cover the sharp metal.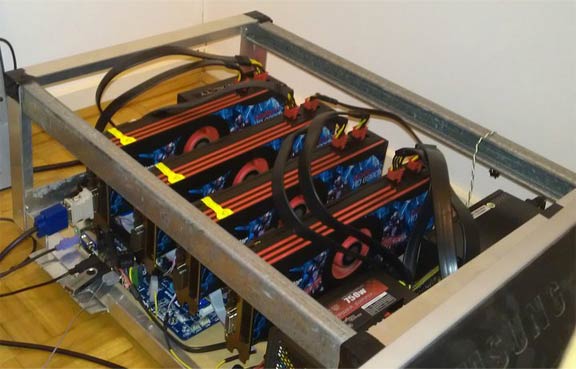 Here are a couple of images from the side.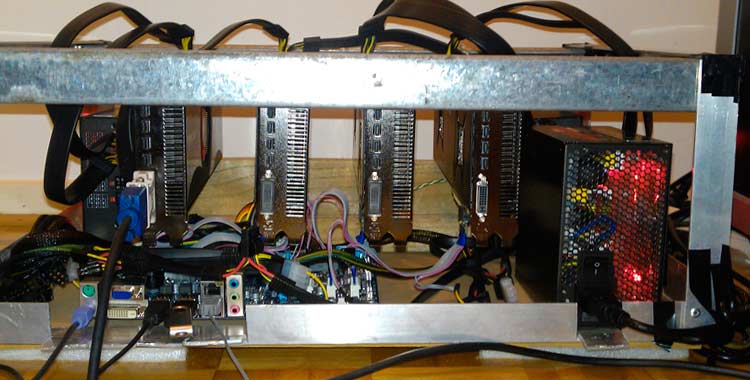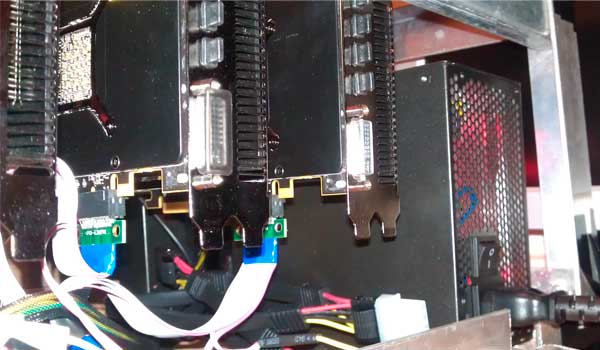 Running the Bitcoin miner – Challenges and costs
Keeping the Bitcoin miner running was much harder work than anticipated, I was hopeful that it would be a "set and forget" project in that once it had been purchased, assembled and was running that would be it. This was however not the case and there were a few challenges and annoyances along the way.
Firstly there were heat and sound issues. Running 8 GPU cores with an overclock (overclock switch on each card was on, increasing each core from 830MHz to 880MHz) flat out 24/7 generates a lot of heat, each card was typically running continually at 100c. The cards were cooled by their default stock air coolers which meant that the fans were also going very fast the entire time causing an extremely loud noise. The solution here was to run the Bitcoin miner in another room with nearby air ventilation. The best option here would have been to purchase some water cooling blocks for the cards and run a water cooled system, this would reduce sound and heat by a lot as well as extend the life of the cards and protect the investment.
I did not do this as I was trying to keep costs low and wanted to see a fast return, at the time the cost of 4 water blocks alone would have paid for another 6990 card so I did not justify the cost as worth while. Looking back I probably should have paid the extra money and set this up to keep everything running optimal, however with that said I did not have any problems with the hardware running it in this manner for so long.
Another issue that occurred was that occasionally the graphics card drivers would crash causing everything to stop. I did not always keep on top of things and check constantly that everything was running all the time, which involved confirming all 8 instances were mining away no problems – one instance per GPU core. I also admit that there were times where I would be so annoyed with software issues that I would just leave it off for days at a time. A few times at the start only two 750w power supplies were used which were not enough to power everything with the overclocks, a couple of crashes were caused by this which was fixed by adding in a third power supply.
A few months after starting the project throughout the summer of 2011 (December – February in Australia) a lot of the time the miner was left off as it was just too hot, heating up a lot of the house. There were not really any overheating problems of the hardware, if this came up I would have been more inclined to swap to water cooling.
Additionally during the summer period Bitcoin was only a few dollars each ($2-$5/BTC) so the miner was left off for some time during these less motivational phases. Looking back now since Bitcoin has risen up again so much it would have been a lot more profitable to stick to it and keep mining.
The following graph from bitcoincharts.com shows the long term price of Bitcoin since it begun. Note the drop in price since I started mining in June 2011 and the low point in my 2011 summer (December 2011 – February 2012).


Click image for larger version.
Power is a very important aspect that must be factored in. Here in Australia this is unfortunately quite expensive compared to many other parts around the world. Comparing my results to other Bitcoin miners around the world I found that they were typically making much more profit than I was due to power costs. Overall I calculated about 1/4 of my total mined Bitcoin was spent on power costs – more on the break down of costs later.
All of these issues were increased by the fact that the default overclock on all 4 cards was enabled to provide a better overall result. Obviously an overclock will require more power, produce more heat, and ensure a higher chance that the drivers may crash in comparison to normal operation. To me however it was worthwhile to do, as all 8 GPUs overclocked basically gave another 1 GPU worth of power which made quite a big difference to the final result, again I really wanted to get the most out of the hardware that I had. The default overclock switch took each of the 8 cores from 830MHz to 880MHz.
Over time lower profits have been observed, this is mainly because when I purchased the hardware not a lot of people were using such a large amount of GPU power to mine Bitcoin. Nowadays however with graphics cards becoming cheaper and with more people getting involved in Bitcoin mining, the overall profit has slowed down while the difficulty has increased. This was also related to the amount of coins from November 2012 being halved from 50, to 25 per block. The recent price rise in Bitcoin (see above pricing graph) has helped counter this, although with new technologies becoming available such as ASICs it is hard for my older model GPU based miner to keep up.
Results
I sold most of my mined Bitcoin in February 2013 while writing this article, as in the previous price graph you can see recently Bitcoin has spiked up and I thought this was a good time to sell. Little did I know that it would keep going and almost hit $50/BTC, however I was working with the assumption that this sudden peak may drop off fast like it did in 2011. Only time will tell, in any case I am happy to have paid for my hardware and made a small profit.
While mining I made use of Slush's pool. Mining with a pool allows you to steadily earn Bitcoin as you get a share for the work you contribute to the pool. I saw this as a much better way than mining and waiting, hoping to get my own block of 50 BTC.
The Bitcoin miner has not really been operational for the last few months and as such I have sold 2/4 of the 6990s for $400 each. This was done as the new 7990s were just coming out and I wanted to get something back from the cards while they still had value, perhaps for a future upgrade. The other two are currently still remaining to allow for hash cracking as this is something else I have been using the miner for from time to time and this was one of the main reasons for going ahead with this project, with the idea that I could have quite a powerful GPU hash cracking machine that would pay for itself by mining Bitcoin – which it did.
In total about 334 BTC was mined. For the price of $24 USD per 1 BTC I sold at I made about $8016. Power costs were calculated as costing approximately $1780, I can't recall the exact wattage in use while the miner was maxing out, and my measuring tool was quite cheap so it is not perfectly accurate however generally 1600w-1800w was continually in use.
So with the $8016 from selling the Bitcoin, $1780 was used to cover power bills, the initial hardware purchase was $3446 as outlined previously. This means that overall profit was approximately $2790, based on the fact that the Bitcoin was sold at $24 each. It could have been much more, almost double if I had waited to sell now. Either way it was an awesome project that paid for itself, left me with decent hash cracking hardware and a nice small profit, therefore this project was a success.