TP-Link offer reasonably priced 10G switches, but the fans in the actively cooled models leave a lot to be desired. I guess it's like they always say, more ports, more problems.

I was inspired to purchase a couple of TP-Link TL-SX1008 switches to upgrade my entire home network to 10 gigabit after watching this video by Gear Seekers covering the smaller 5 port version – the TL-SX105.
In the comments of that video, Nick warned me that the 8 port TL-SX1008 was actively cooled. "No problem!", I thought, I've got enough fans going I'm sure this won't be much extra.
I was incorrect.
Loud fan noise
Upon first powering on the TL-SX1008 I was greeted to fan noise of ~67dB(A), however before long it settled in at ~47dB(A) while running completely idle – absolutely audible over my other equipment.
I found the fan would ramp up and down a little inconsistently even with minimal network usage, and considering we're only just exiting winter here in Australia I'd expect the fan to ramp harder in the coming warmer months.
There's no sort of management interface or otherwise any other way to control the fan speed, at least nothing that stuck out in documentation online.
Stock fan details
Opening the TL-SX1008 is simple, unscrew 6 Phillips head screws and pull off the metal cover, here's the fan it ships with.
The fan model is EF40201BX-Q18C-F99, after searching for it I was able to find the following spec sheet.
The following helpfully breaks down what the model number means: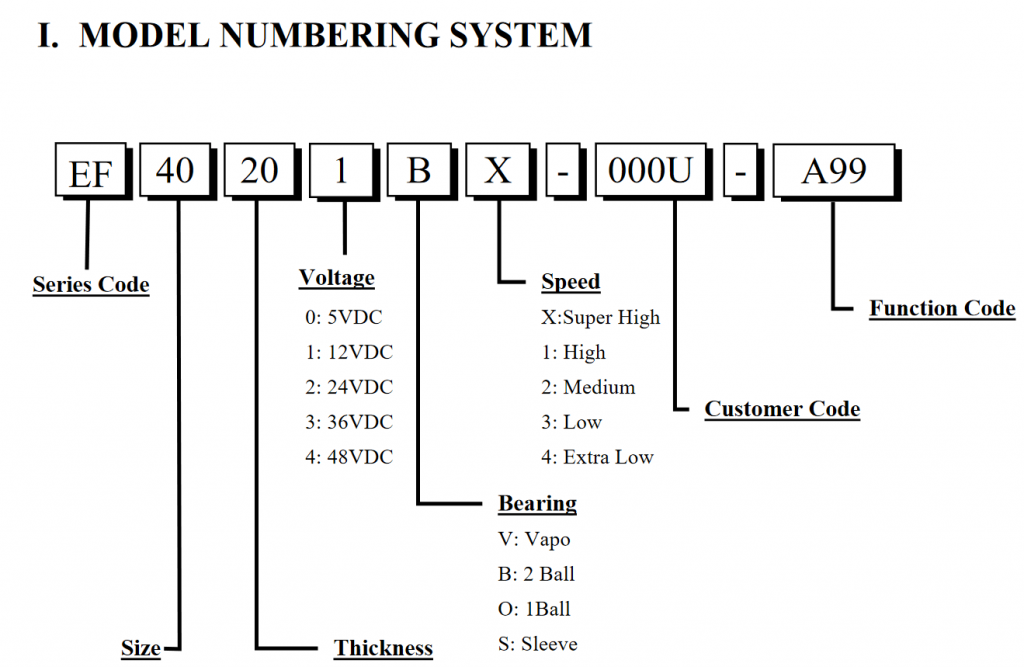 Along with the dimensions (40x40x20) which are apparent from just measuring the fan, this tells us it's 12V, which was on the sticker anyway, but what I found interesting was that the "X" denotes "Super High" fan speed – lucky us. Otherwise it's noted that it's a 6,800 RPM fan with an air flow of 10.8 CFM at 28.5dB(A).
The fan appears to use a regular 3-Pin connector, but someone thought it was a good idea to glue it to a nearby capacitor.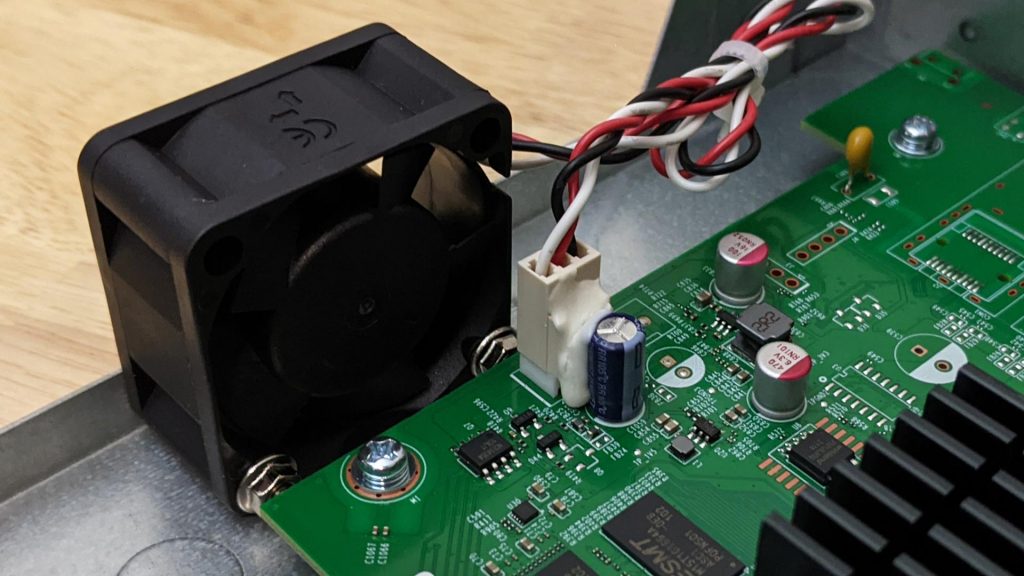 I carefully removed the glue from the cable with a knife. Consider holding down the capacitor with your finger while pulling the fan cable out if there's still some glue sticking it.
The fan is held in with two long Phillips head screws, you can see the nuts holding them in place in the image above.
Replacement fan
After less than a minute of thoroughly researching Google for the best 40mm fan replacement, I settled on the Noctua-NF-A4x20 FLX. The main reason was because it was rated much quieter while also offering increased air flow.
Even at 5,000 RPM it's quieter, but the NF-A4x20 also comes two low-noise adapters (L.N.A.) should you want to run even quieter. The stock fan at 10.8 CFM equates to 6.36m³/h, so even with Noctua's ultra-low-noise adapter at 8.5dB(A) we're getting more at 6.9m³/h.
Given there's space for a 20mm deep fan, it's probably not worth considering a 10mm option. Generally more space allows you to get more air flow with quieter operating temperatures, so might as well use the space if you've got it!
Installing the new fan
I wasn't able to install the new fan with the screws from the original fan, at least not without taking out the switches board due to a lack of clearance and I was lazy. I used two of the shorter screws that came with the Noctua fan instead which worked perfectly.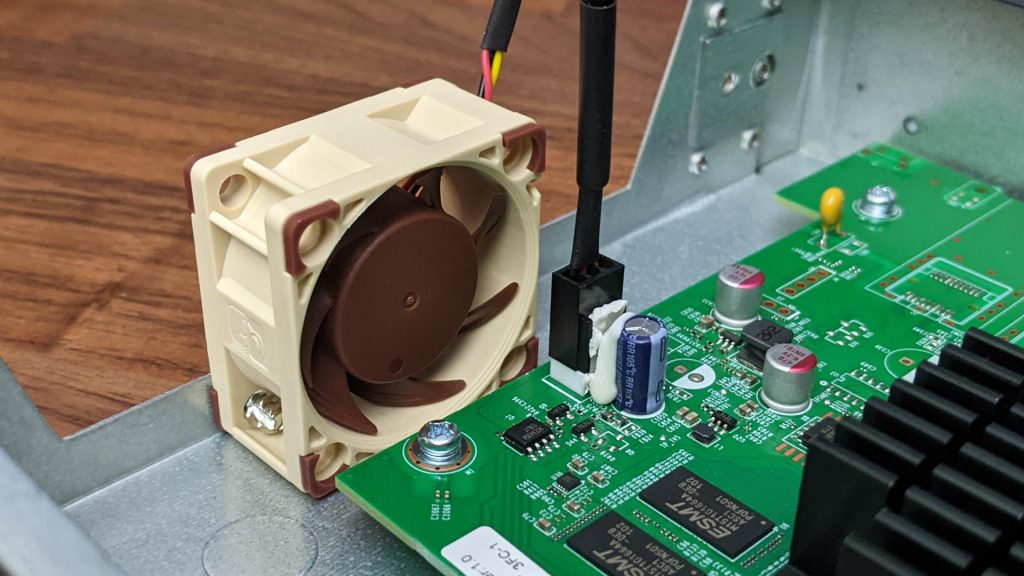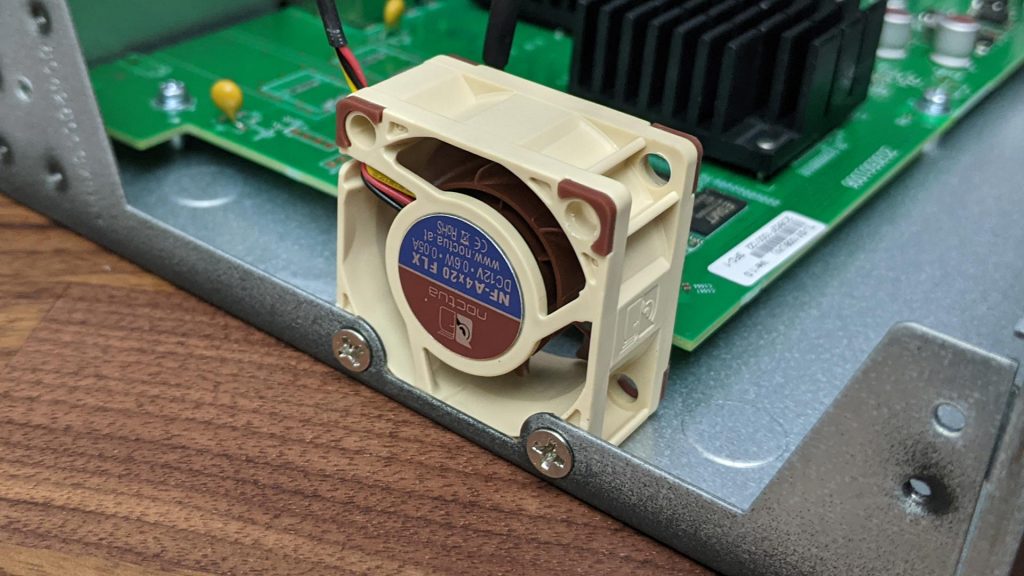 The metal cover fit right back into place, good as new. Well – Almost, the cover still fit perfectly fine but the screws weren't completely flush against the case so there's a little bump, but it still closes comfortably. If that's a concern then just use the screws that came with the original fan.
I measured the new fan at ~37dB(A) during the initial startup, and then once it settled in at idle it was around 36.3dB(A), or very close to my noise floor and barely audible – a massive improvement compared to the stock fan.
Conclusion
TP-Link, you've got a nice product here for a reasonable price, but please just increase the price a little more and use a better fan. This simple change has significantly improved my experience with the product, as now I can go back to forgetting about the hardware I use to get the job done.
I understand that this is one of the cheapest 10G 8 port switches out there, and it likely still would be with an extra $10-$20 added to the fan. I suppose this would be less of a problem if you're deploying it in a server room or elsewhere where the fan noise doesn't really matter, but at least it's a relatively easy fix.
Long Term Use Update
June 2022 update: One of the two switches has died, however I don't believe it's due to the fan swap. Basically I unplugged one of the switches because I was changing out the desk it was sitting on. All I did was move it carefully to another room and after plugging it back in it didn't work. It appears to boot up but none of the ports work. There are plenty of reviews online from people having similar issues with ports dying who haven't changed the fans. It's probably a case of "buy nice or buy twice", this is one of the cheapest 10gbe switches available. Anyway I've replaced it with a QNAP switch that costs twice as much and runs quiet without any mods. I only bought it because I've already been running the same model here for even longer with no issues.
August 2022 update: The 2nd switch has now died lol, so I'm out $1200 AUD or so on these pieces of crap. Going to buy a 2nd QNAP as in above update.
---
Disclaimer:
We are a participant in the Amazon Services LLC Associates Program, an affiliate advertising program designed to provide a means for us to earn fees by linking to Amazon.com and affiliated sites.