WordPress is a free web application that allows you to create a fantastic looking website or blog. There are thousands of additional themes and plugins allowing you to easily customize your website to get the unique look and functionality that you're after. So how can setup your new website using WordPress? Let's take a look.

I have used WordPress to run this website since July 2012, and speaking from experience it's very easy to use to create a website.
Web Hosting
First you will need a place to host your WordPress website so that it can be accessed over the Internet, this is known as web hosting. For the web hosting component I highly recommend BlueHost, for the price of a cup of coffee per month you can easily get started with WordPress in just a few minutes at Bluehost. WordPress themselves also recommended Bluehost for hosting your WordPress website online, I have hosted with them many times over the years and always had a great experience.
A lot of other web hosting providers will provide you with web hosting space but then require you to manually download the WordPress files, create a database and then install WordPress – not BlueHost however. While this process isn't too difficult you do need have some experience to know what you're doing, so it's great that Bluehost simplify the setup process by cutting this step out for you. Once you sign up for some WordPress hosting, WordPress will already be installed and ready for you to use straight away.
Now that you're signed up for the web hosting you're ready to start using WordPress!
Setting up your WordPress website
Now that the web hosting and WordPress are ready to go it's time to set up your website. You should be able to access your WordPress admin area at http://www.domain.com/wp-admin, replacing domain.com with your domain name. If you have used Bluehost as outlined above to do this you will also be able to access this from within your Bluehost control panel.
After first logging into WordPress you should see options similar to those pictured below.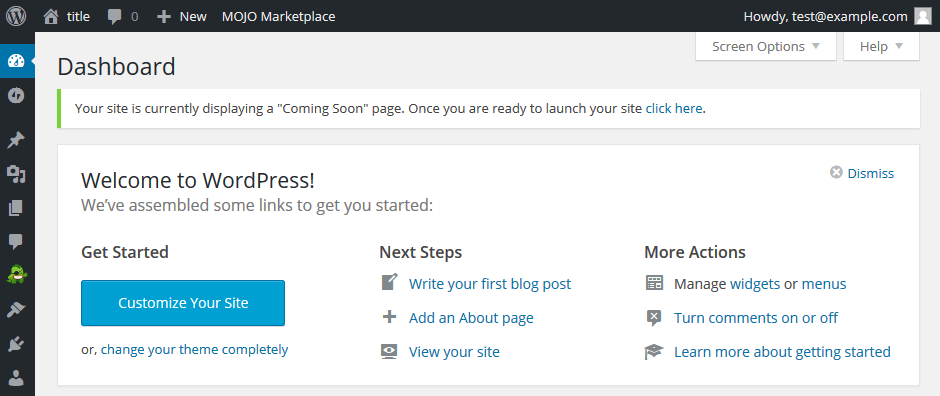 From the Dashboard you can customize the page, edit the theme, create posts and pages for your website.
Changing the theme
Changing theme is recommended as there are plenty of freely available themes for you to use and these can quickly change the whole look and feel of your website. From the dashboard there is a link to change your theme, otherwise from the menu on the left you can select Appearance > Themes to get to the theme options. From here you can browse freely available themes that you can install with a simple click.
Installing plugins
WordPress itself provides the core functionality for your website however this can be extended with plugins. Plugins can be searched for and installed in WordPress by simply browsing to the plugins area, found from the menu on the left. Some good plugins worth checking out are Jetpack (installed by Default with Bluehost) which provides statistical information such as the amount of views your pages are getting, and can even be used to add Twitter/Facebook sharing buttons to post and email out people that sign up to your website to receive notifications when you publish new content.
Creating content
Content for your website will typically be created as either post or pages. While both are similar posts are typically used as blog post entries while pages are used for static pages that will always remain in place. If you want to get a more in depth understanding, see this post on the WordPress website regarding the difference between posts and pages.
Once you're happy with the changes don't forget to click the link in the message that is displayed at the top of your admin area page, this will launch your website which will make it publicly available to the Internet.
Conclusion
WordPress is a powerful free option for running your website or blog online, all you need to get going is a domain name and web hosting and then you can get started with creating and publishing your content online.