I recently upgraded the firmware on my QNAP NAS from QTS 4.2.x to 4.3.x, and in doing so Plex stopped working. It was difficult to find information online to fix the problem, so I figured I'd write this short post on how to fix the issue.
The problem
I first noticed the issue after the firmware update to QTS 4.3.x completed and the NAS had rebooted, as I was presented with the following error message.

Plex Media Server hasn't been enabled or started ...	

I then went into the App Center to try and manually start Plex, but the same problem continually occurred.

Upon trying to start Plex manually through the command line we receive the following error message.

# /etc/init.d/plex.sh start
Starting Plex Media Server...
/etc/init.d/plex.sh: line 39: ./Plex Media Server: No such file or directory

I spent a while looking at the script and made some tweaks, but nothing really helped.
Fixing it
Finally I found some useful information on the Plex FAQ, specifically question 20 which notes that if you've upgraded from QTS 4.2.x to 4.3.x then you need to use the 64 bit version of Plex rather than the 32 bit version.
I then downloaded the latest version of Plex and uploaded the .qpkg file through the App Center interface to install it. This can be done by selecting the icon highlighted below in the top right corner of the interface.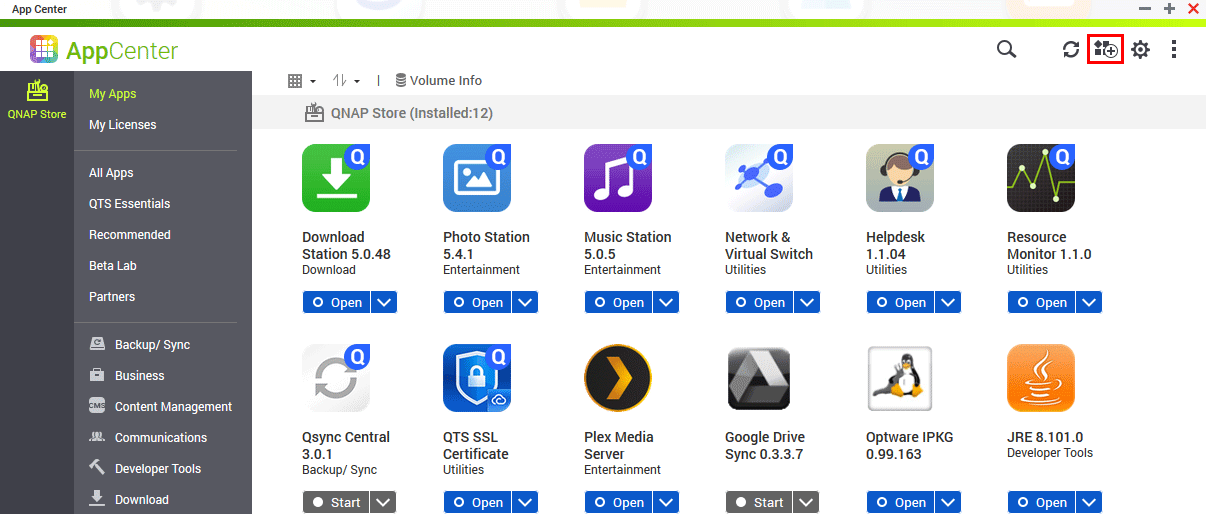 Do not remove the 32 bit version as this will likely remove metadata etc. I literally just installed the 64 bit version with the other one still installed and it all worked fine.
Once complete wait a few minutes while the 64 bit version installs.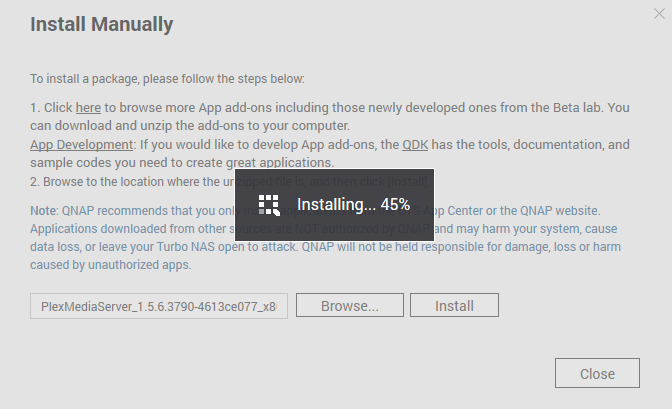 Once complete Plex automatically started and I confirmed that it was now listening on port 32400 once more and that the web interface was accessible.

[~] # netstat -antp | grep 32400
tcp        0      0 0.0.0.0:32400           0.0.0.0:*               LISTEN      28800/Plex Media Server

Summary
A QNAP NAS with QTS 4.3.x or above needs the 64 bit version of Plex. I appear to have had the 32 bit version which worked fine for many years with QTS 4.2.x and below. I'm not sure why there was no warning from either the NAS itself when performing the firmware upgrade or from Plex about this incompatibility, it took me quite a while to find out what the issue was and work out how to resolve it, so I hope this information helps you.